you spin me right round baby right round
About you
Name: Stephanie
Age: 17
Sex: Female
Hair Color: Dirty blonde w/ bleach blonde highlights
Eye Color: blue
Favorites
Color: PINK!!
Band: Switchfoot, the lyrics are awesome!
Television Show: Summerland
Sport: Swimming (if thats considered a sport)
Food: tacos, everything chinese!
Singer: Ashlee Simpson
Movie: A Walk to Remember and Save the Last Dance
Nail polish color: HOT pink
What are your opinions on...
Love at first site: I definately think that its real i just haven't experienced it
Long Distance Relationships: I think it would be hard to have a long distance
relationship but if two people are really in love than I think they can
make it work
Diseases: Every disease is bad but there are sooo many that are worse than others.
In fact I have diabetes and I am soo thankful that I have that instead of
a more deadly one!
Rape: Its horrible to hear stories about rape! Its soo sad and i feel for the
peoplewho have been raped
Divorce: My parents are divorced and depending on the couple sometimes it is better
to be divorced than married
Same-Sex Marriages: I dont really mind it, thats not my way of living but i think
you should be able to live how you want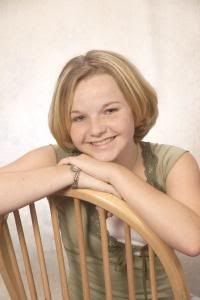 Thats one of my senior pictures
Hopefully thats clear enough
You may think i look young but i really am 17! :)